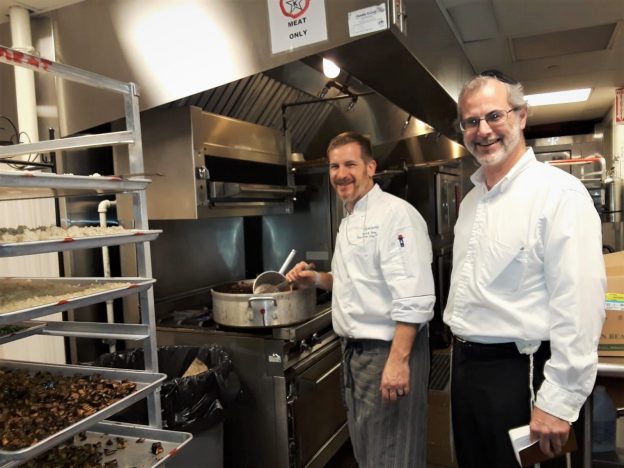 As a proud native New Havener, I was overjoyed when I found out that Yale University's kosher kitchen would be certified by STAR-K Kosher Certification; I couldn't wait to try it out, as I recently did, on my annual Elul trip to my hometown.
Yale University's kosher kitchen has come a long way since it first opened to serve weeknight dinners to its graduate students in the fall of 1959. It was housed in the Young Israel synagogue, a 25-minute walk from the university's downtown New Haven, Connecticut, campus. Most recently, reinventing itself as a STAR-K Kosher-certified facility in the Lindenbaum Kosher Kitchen located at the Joseph Slifka Center for Jewish Life, it functions seamlessly in the middle of the campus as part of the Yale University Dining System.
Since 1999, STAR-K Kashrus Administrator Rabbi Mayer Kurcfeld has been engineering and overseeing the agency's many certified on-campus facilities, custom-designing those which were not pre-existing. Yale University's kosher kitchen joins the ranks of STAR-K certified college campus kitchens at Cornell University, Franklin and Marshall College, Johns Hopkins University, Muhlenberg College, Penn State University, Towson University, University of Maryland-Baltimore County, and University of Maryland-College Park.
The growing trend to offer Kosher on the college campus acts as a magnet to attract the approximately 100,000 new Jewish college students who arrive on US campuses each fall, joining an estimated 400,000 Jewish undergraduates. Last term, the Yale kosher dining facility accommodated an average of 250 students for dinner, their largest meal served daily. Every other Sunday, Slifka offers a bagel brunch, often attended by more than 500 students. The Lindenbaum Kosher Kitchen is open to the public, as well.
My friend and I were extremely impressed by our first-time Slifka kosher dining experience. We enjoyed not only the plentiful, colorful, tasty, healthy, all-you-can-eat lunch and dinner offerings, but Slifka's congenial atmosphere and friendly, smooth-running service. The variety of dishes – from soup to dessert – heavy on fruits and vegetables, was even able to accommodate my friend's gluten-free diet! Additionally, it is open to accommodating various other dietary requirements, such as soy- and dairy-free menu options.
Kudos goes to Chef Patrick and Bill Ostrowski, managers of Unidine, which operates Slifka's kosher food service with a focus on culinary integrity, health and wellness, and hospitality. Mr.Ostrowski, notes, "Slifka dining is open not just to Jewish students but to all Yale diners. We are the only late-night option on campus, so a lot of the students enjoy coming here and getting to know the Jewish traditions."
I shared my rave review with Moshe Aziz, who moved from Brooklyn to the Yale campus to be STAR-K's full-time mashgiach temidi at the Lindenbaum Kosher Kitchen. He remarked, "Working inside Slifka Hillel with Unidine, I have found that we have an excellent team. The entire staff is very professional, very respectful, understanding, and works well together. They will compromise food quality for Kashrus, if needed, and will not serve something if it is not in our guidelines."
To accommodate the growing demand for kosher on the Yale campus, Slifka Executive Director Uri Cohen says the current facility will be renovated and enlarged in time for the fall 2020 semester.
"STAR-K, our new hashgacha agency, not only takes campuses seriously but has a track record in working productively in a campus environment, understanding the needs and dynamics," notes Mr. Cohen. "We heard amazing things about Rabbi Kurcfeld as an extraordinary person who is focused on these efforts and leading them. We are very excited to be working with STAR-K as one of our core partners to get the job done."
Rabbi Kurcfeld adds, "Since my initial meeting with the management at Slifka, and subsequently with Unidine, it is clear to me that their commitment to uphold STAR-K standards is of utmost importance to them. I feel confident that the crucial partnership we have built over time – based upon mutual professional courtesy, respect, communication, and transparency – will enable us to achieve our shared goal of providing quality kosher meals at Slifka."
In fact, that was found to be true, when Rabbi Kurcfeld participated in the "First Year Welcome Shabbat Dinner", August 23-24, joining approximately 150 diners, including first-year students and their families, after move-in day; he reported that everything went seamlessly and flawlessly, with no kashrus issues whatsoever.
STAR-K President Avrom Pollak concludes, "STAR-K is happy to service the needs of Yalies, offering attractive, delicious kosher meals produced under the highest standards of kashrus in our commitment to uphold our mission."
Not only is STAR-K upholding its mission, it has become the address for quality kosher college dining!