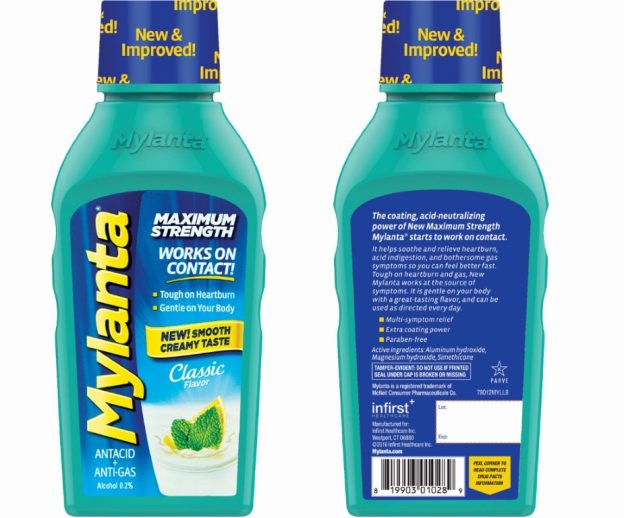 Over-the-counter (OTC) pharmaceutical products that have kosher certification are far and few between. That is why the announcement of the STAR-K certification of various Mylanta brand antacid and anti-gas products is monumental.
Kosher consumers can now find Mylanta Liquid Antacid & Anti-Gas (Maximum Strength Classic, Maximum Strength Vanilla Caramel, and Tonight Soothing Honey Chamomile) and Mylanta Gas Minis (Assorted Fruit, Cherry, and Mint Tablets), distributed by INFIRST HEALTHCARE under license from McNeil Consumer Pharmaceuticals Co., on shelves throughout the US at national retailers such as Walmart and Walgreens.
"Pharmaceuticals are the 'last frontier' of kashrus and, unfortunately, very few OTC pharmaceutical products are kosher certified, explained STAR-K Kashrus Administrator Rabbi Dovid Heber. "Kosher consumers who require such products are often confronted with questions. A STAR-K certified OTC product is a guarantee for consumers that they are receiving a product that is 100% kosher. Furthermore, all certified products are manufactured only on kosher equipment at a facility that is visited by a STAR-K field representative. We welcome these Mylanta products to our STAR-K family, as they fill a much needed void in the world of kashrus."
"We are thrilled to expand Mylanta's accessibility through the launch of our new and improved products and meet the needs of all heartburn sufferers nationwide." said Gigi Leporati, Mylanta's Marketing Director.
"For years, STAR-K has been at the forefront of providing much needed information about medication and nutritional supplements," concluded STAR-K Kosher Certification President Avrom Pollak. "We are particularly pleased to now be able to certify this commonly used and well known nationally distributed brand of antacids."