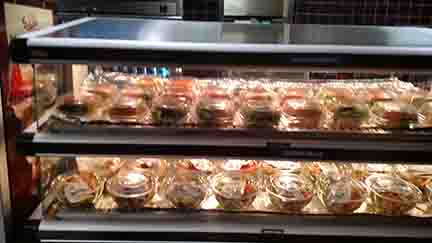 The Walter E. Washington Convention Center, famous for hosting the official inaugural balls for Presidents George W. Bush and Barack Obama, earned its newest claim to fame, March 20-22, when it hosted the largest Kosher event ever—the 2016 AIPAC Conference. Actually, the 2,300,000-square-foot facility in Washington, D.C., was not large enough for the event which was addressed by Vice President Joe Biden, Democratic presidential hopeful Hillary Clinton and Republican presidential hopefuls Senator Ted Cruz, Governor John Kasich, and Donald Trump. The 1,020,000 square foot field Verizon Center and the 105,000 square foot Marriott Marquis, were utilized, as well.
Here are just some of the stats so you can try to fathom what it took for the The Vaad Harabanim of Greater Washington (the "Capitol K") to ensure the event was kosher: 18,700 attendees; 55 mashgichim; 10 kitchens; 4 caterers; 12,000 lamb chops; 5 actual days of catering; 14 carriers of Kosher certified Dunkin Donuts; and, Kosher room service around the clock at the Marriott Marquis for 2.5 days!
STAR-K certified Foremost Ram Caterers started its Kosher prep in December. As site manager of the Washington Convention Center's operation, Capitol K's 5-year-veteran lead mashgiach for the conference, Rabbi Binyomin Steinmetz, said his attention was required for 36 hours straight. With the conference's expansion, last year, to the adjacent Marriott Marquis, more administrative staff was needed. Marriott site manager, David Lapin, oversaw the kashering of two hotel kitchens, three restaurants, and scheduling up to 15 mashgichim for the 79 kosher events, ranging in size from 15-1,500 guests.
Early March, the Redskins' kitchen at FedEx Field was kashered in preparation for the Verizon Center's upscale events. Next, a week of intense food production took place. The kitchen was manned by a team of four mashgichim led by STAR-K Kashrus Administrator Rabbi Tzvi Shaul Goldberg.
The week prior to the event, 10 experienced mashgichim kashered and marked hundreds of pieces of equipment.  The actual process of cleaning the kitchen equipment began days before and continued up until the kashering process. How each piece of equipment was to be kashered had been determined at meetings and walk-throughs that took place months before. Kashering continued all day Wednesday and Thursday; production began at 3:00 a.m. Friday morning. During full production, in each location five mashgichim were required in the main kitchen areas, between the convention center's three main kitchen areas and the Marquis's massive production kitchen which housed six ovens, (two just for fish) three braziers, two soup kettles, a flat top griddle (for meat only), a six burner stove top, and a 7-grate grill (for fish only) and more modest Dairy kitchen which only needed one mashgiach. All equipment and areas were carefully labeled with color coded signs. Almost all of the events had their vegetables checked offsite; the Marriott vegetable checking operated almost non – stop from Friday to Monday night (with the exception on Shabbos). Led by insect checking specialist, Mordecai Levy, hundreds of pounds of salad mixes, berries, and assorted produce were carefully washed and inspected for use throughout the event.
On Motzei Shabbos, Rabbi Steinmetz, Rabbi Goldberg and Capitol K's Director of Field Operations and STAR-K Kashrus Administrator Rabbi Zvi Holland, and their crew, kashered and prepared four Verizon Center kitchens and dozens of concessions and pantries servicing the facility's four levels. Their team of 20 mashgichim prepared the Verizon Center in time for the Sunday 3 p.m. opening, the first General Session, until the last session on Monday night.
In total, 11 kitchens, over 500 speed racks, almost 100 hot boxes, and innumerable pieces of equipment were kashered, marked, and dedicated for the 18,700 AIPAC Policy delegates who enjoyed kosher l'mehadrin food during the 3-1/2 day event!
As Rabbi Holland, quipped, "It was, possibly, the largest single kosher event since the destruction of the second Temple!"
http://www.baltimorejewishlife.com/news/news-detail.php?SECTION_ID=1&ARTICLE_ID=72563
http://www.theyeshivaworld.com/news/headlines-breaking-stories/405095/what-it-takes-to-serve-kosher-to-18700-aipac-conference-attendees.html