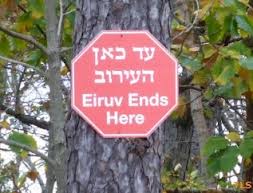 If you are an eruv checker or rav hamachshir in one of the dozens of cities across the United States, Israel, Europe and Australia that has an eruv, you can now review hilchos eruv and pose your eruv shaylos, gratis, with no strings attached!
On Wednesday, September 7, at 8 pm EST, STAR-K will host the world's first Eruv-inar, featuring Rabbi Moshe Heinemann, shlita, who will discuss hilchos eruv. This inaugural long distance interactive presentation will allow participants to experience a live workshop highlighting eruv shaylos through the use of pictures of eruvim that have been submitted to STAR-K.
Pre-registration is required to participate in this program. Please forward your name, the capacity in which you serve your eruv, and the location of the eruv here. If you have a shayla regarding your eruv, please forward pictures of it (along with a note detailing the question) to the same address. There is a 10 megabyte limit for attachments, so you may have to break up the pictures into several emails.
For further details about the Eruv-inar, please contact Rabbi Zvi Goldberg, 410-484-4110, ext. 219.