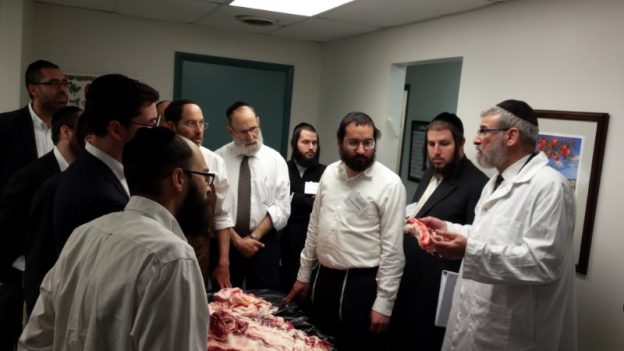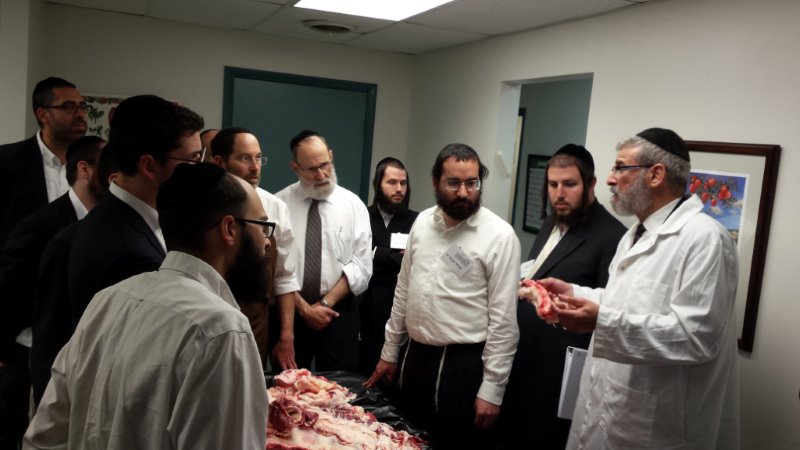 It didn't take long for the boardroom at STAR-K Kosher Certification's headquarters in Baltimore, Maryland, to be converted from a lecture hall, where STAR-K Kashrus Administrator Rabbi Zvi Goldberg presented a PowerPoint about mislabels and fraud, into a makeshift "operating room". Dressed in a starched white butcher's coat, performing the delicate "surgery" on the bright red, fleshy section of a beef forequarter laying before him on the table, was STAR-K Kashrus Administrator Rabbi Mayer Kurcfeld. The 38-year veteran menaker explained every step of the process of the ancient mesorah of traiboring to the huddle of the agency's 14th Annual Kashrus Training Program's participants surrounding him. The crash course on removing the prohibited veins, arteries, chailev (prohibited fats), and portions that attach to and get nourishment from the chailev, including enabling free flow of blood during the kashering process, was just one of the many invaluable skills that they learned from July 24-27.
The participants—who hailed from throughout the United States and from as far away as Vancouver, British Columbia, and Eretz Yisrael— were also taught everything from agency administrative issues to foodservice challenges and major kashrus differences between Ashkenazim and Sefardim. They benefited from a hands-on vegetable checking practicum and behind-the-scenes tours of Baltimore Hilton's kosher kitchen, Seven Mile Market, the Treuth slaughterhouse, and various manufacturing plants, as well. One of the highlights of the program was the concluding "Ask the Rav" session, where participants were able to have their kashrus queries answered by STAR-K Rabbinic Administrator HaRav Moshe Heinemann and the agency's staff panel.
Joining the Kashrus Training Program were two newly hired STAR-K staff members, Rabbi Nisson Dov Miller, who recently moved to Baltimore from Sharon, Massachusetts–where he served as the Rav of Congregation Etz Chaim for over 20 years–and Rabbi Aviv Mizrachi, from Yerushalayim. Rabbi Mizrachi is moving to Cochin, India, this month, to work in both a kashrus capacity for the STAR-K-India office, and serve as Rav of the once-heavily populated Jewish community which is now home to only a couple dozen yidden.
Among other Rabbonim who attended the program was Rabbi Moshe Hamaoui, Rav of Chevrat Pinto in Manhattan's Upper West Side. He shared, "I have so many questions about kashrus. The program was very informative, professional, and organized. It was really amazing! What I like so much about it is that we get the connection with all these different experts. If I need any shaila answered, I am able to call the STAR-K office and ask it–whether it is kashrus related or not."
As Rav of Young Israel of East Northport/Eitz Chaim Torah Center, in eastern Long Island, New York, Kashrus Training Program participant, Rabbi Eli Biegeleisen, is responsible for approving kashrus in the area–as the primary Orthodox community among some 30,000 Jews within a 20-mile radius.
Rabbi Biegeleisen concurred, "It was very informative, very proficient, and a phenomenal exemplary presentation of the field of kashrus…What stands out particularly is the readiness to serve as a proficient resource for the Rabbonim in communities around the world. I must mention the kiddush Hashem implicit in how the Administrators conduct themselves in dealing with kosher supervision with Jew and non-Jew alike with pleasant professionalism while proudly following the psak of Rav Heinemann without question or compromise."
"The traiboring is a highlight; another highlight is the personal guided tour of a slaughterhouse by Rav Heinemann," concludes Rabbi Goldberg, who coordinates the annual program. "All the tours and lectures combine to what we hope is a comprehensive view of how kashrus is carried out by a major agency in the 21st century. We are grateful that we continue to have the zechus to serve the klal in this way."