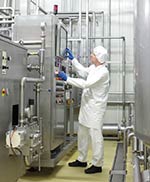 http://www.qai-inc.com/newsroom/enews/qnews_2015_q3_combined-audits.asp
The rapidly rising parallel global demand for both kosher and organic certifications has created a flourishing specialty food category, kosher organic, for products that meet both the strict requirements of Jewish dietary laws and the USDA National Organic Program specifications. To satisfy the growing numbers of companies worldwide that opt for both of these certifications, QAI and STAR-K Kosher Certification, based in Baltimore, Maryland, introduced a joint kosher and organic auditing program in January 2009. It provides two certifications with a single audit. This streamlined auditing process reduces overall certification costs, saves time and provides excellent service.
What is required of a plant that wants to become and stay kosher compliant? Specific regulations often depend on the nature of the plant. For example, if Plant A produces both kosher and non-kosher in the same facility and Plant B is entirely kosher, Plant A will have additional regulations regarding the use of equipment, since the non-kosher product could impact the status of a kosher product.
STAR-K Kashrus Administrator Rabbi Dovid Heber highlights ten examples that plants have to watch out for to ensure that kosher consumers can have their organic "cake" and eat it, too:
All ingredients in use must have been approved by the kosher certifying agency. You should have a list from the kosher agency of everything approved.
All suppliers of the ingredients must be approved. The kosher certifying agency must be notified in advance if you would like to change suppliers.
The necessary kosher symbols must appear on the label. Note that not every label needs a symbol — the necessity of kosher symbols is spelled out on the kosher letter of your supplier and approved ingredient list.
Your in-house labels with kosher symbols are for products that have been approved by the kosher agency.
All private labels have been approved.
If you are producing dairy, the label must have the correct symbol and state "dairy" on the package, in addition to using the correct symbol.
Formulas and batch records must match what was submitted to the kosher agency and they must approve all changes in advance.
All changes of ingredient suppliers and formulas must be reported to your kosher certifying agency. New production facilities and changes to production methods that impact kosher must be reported, as well.
If a plant is used for both kosher and non-kosher product runs, or for both dairy and pareve product runs, the guidelines for equipment use must be followed.
Have backup plant personnel in place, to escort the kosher inspector around if he visits on the day that the main contact is out of the office.
Of course, there are additional examples that are beyond the scope of our discussion that also depend on the complexity of each particular facility.
If you are interested in combining organic and kosher certification, or want more information about kosher certification requirements, contact Jonathan Lackie at +1 858.200.9708 or [email protected].