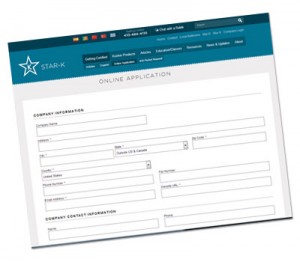 In keeping with Star-K's commitment to providing prompt, efficient service, Star-K companies will now have the option of receiving their Letter of Certification (LOC) electronically. This enhancement is especially useful for companies that send multiple LOC's to each of their customers. For example, rather than faxing a five-page LOC to a long list of customers, Star-K companies will be only a click away from electronic LOC distribution. All their customers can receive the data they need in seconds.

Furthermore, because the LOC is in a "read only" Adobe file, security is assured. (Adobe Acrobat Reader is a commonly used program, easily downloaded from the internet.) An electronic LOC helps maintain the integrity of important information such as, "kosher for Passover" certification, or "when bearing the Star-K symbol". This is most beneficial for kosher certification agencies.
This most recent change represents Star-K's ongoing effort to maintain a state-of-the-art computer system in order to serve their companies and consumers in the most user-friendly fashion.