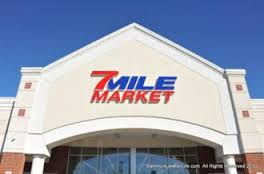 Jenna Fogel's grandparents keep kosher and she has eaten kosher foods, but she admits she never really understood the meaning behind them. "I always thought a rabbi said a prayer and put a kosher stamp on the box and then it was considered kosher," says Jenna, a Chemical Engineering major. Such kashrus misconceptions were clarified for Jenna and nineteen of her fellow Johns Hopkins University students when STAR-K Kashrus Administrator, Rabbi Zvi Goldberg, led them on a recent tour of Baltimore's Seven Mile Market.
"A major focal point of the tour was to show how many of the items they normally buy are kosher already, and that they can keep kosher nowadays with minimal effort," said Rabbi Goldberg. "I also explained what goes into certifying more complicated items, such as sauces or poultry, and showed them what the common symbols look like."
The more than 20,000 kosher products dotting the aisles of Seven Mile Market–one of the largest kosher supermarkets in the U.S.–motivated the Hopkins undergrads to ask hashkafic questions like: Why would an imitation bacon bits product be needed if it is just for taste purposes, and one should not have ever tasted bacon? Doesn't this defeat the whole purpose of kashrut?
The trip to Seven Mile Market was just one stop along the tour route of the Baltimore observant community for the members of the Sinai Scholar Society, a program offered through the Chabad House at Johns Hopkins–an affiliate program run on forty Chabad Houses on Campus throughout the United States, for students with a minimal yiddishkeit background. Rabbi Zev Gopin, director of Chabad of Johns Hopkins and Central Baltimore, offered the Sinai Scholars program this past semester for the first time and feels that already it has been a great success. The complimentary program, limited to twenty students per semester, is offered two hours per week and requires writing a three to five page paper upon completion. Participation is completely voluntary and students do not receive credits for it.
"At the end of the Sinai course, a majority of the students said that they felt a major void when it came to their yiddishkeit," said Rabbi Gopin. "They might have prepared for their bar or bas mitzvah, yet, did not feel part of the Jewish community. Even those that admitted being agnostic, at the beginning of the program, felt otherwise by the program's end.
"I think the Seven Mile Market experience was a major eye opener for students who did not have any exposure to kosher," continues Rabbi Gopin."We got them as close as possible to what it is like to keep kosher. They learned how to be mindful of what is out there and how easy it is to observe. Thanks to the help from STAR-K, and the guidance of Rabbi Goldberg, the students were given an out-of-book experience they would not have had otherwise."