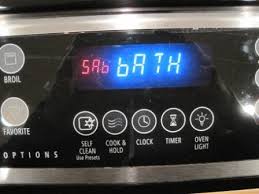 Appliance manufacturers, with the aid of modern technology, have designed kitchen appliances to be safer and more efficient while incorporating various features to enhance operation. However, the integration of this technology may pose a challenge to their proper use on Shabbos and Yom Tov.
In 1997, a historic technological project was launched between a major appliance manufacturer and a kosher certification agency. Whirlpool Corporation (manufacturer of KitchenAid) approached the STAR-K to help modify their ovens for use on Shabbos and Yom Tov. Prior to that time, many of their appliances did not conform to halachic guidelines. Following some adjustments, a successful mode was developed. Whirlpool called this "Sabbath Mode" and was awarded a patent in 1998 for this concept.
STAR-K certification on appliances falls into two categories:
1. Sabbath Mode, includes models that have unique software/hardware designed to specifically address our concerns.
2. Sabbath Compliant, includes models that the manufacturer wanted STAR-K to assess for use by the observant Jew.
The intention was to assist the consumer in avoiding purchase of an expensive oven or stove that cannot be used on Shabbos and Yom Tov. Details on manufacturers of both categories are listed by company and specific model number on our website, www.star-k.org.
OVENS
Sabbath Mode
Note: The Sabbath Mode does not allow us to turn these appliances on or off during Shabbos. The Sabbath Mode also does not allow us to use these appliances completely at will on Shabbos or Yom Tov. Rather, it enables us to use these appliances within the guidelines of halachah, as delineated in the letters of certification (available from the STAR-K office), or as posted on the STAR-K website.
Ovens with the Sabbath Mode will not shut off after 12 hours of continuous operation. In many cases, this mode will prevent the oven light from going on/off as the door is opened/closed. In some models, however, the bulb must be unscrewed or the light left on for the entire period. No lights, digits, solenoids, fans, icons, tones or displays will be activated/modified in the normal operation of the oven.
For these Sabbath Mode models, the set temperature can be raised or lowered on Yom Tov – but not on Shabbos – for cooking purposes at any time. This is because there is a built-in delay between the request for temperature change and its actual implementation.
Sabbath Compliant
Ovens certified as Sabbath Compliant have the same basic features as those with the Sabbath Mode, except no delay is built into the set temperature change process. Therefore, the temperature cannot be changed on Yom Tov. On some models, adjustment of the set temperature may still be possible on Yom Tov. These models do not have a digital temperature readout. They have an indicator light that cycles on/off as power flows to the heating elements. One can raise the temperature when the light is on and lower it when it is off. For other Sabbath compliant models which do not have a cycling indicator light, the set temperature chosen before Yom Tov cannot be adjusted on Yom Tov. The STAR-K website has details about specific models.
Timed Bake
Many ovens have a timed bake feature that allows the oven to go off after a fixed period of time. However, after the time runs out many models chime indefinitely or have an icon or light that is canceled when the door is first opened.
The STAR-K website lists models that have the timed bake feature without these drawbacks when in Sabbath Mode.
Warming Drawers
Warming drawers should be treated as standard ovens, since they present the same issues. They are thermostatically controlled, and their lowest temperature is often above 120°F. As is the case with a standard oven, all food must be placed in the warming drawer before the start of Shabbos.
Power Failures
For safety reasons, most ovens will not recover from a power failure in the ON condition. Some exceptions are noted on STAR-K's website.
REFRIGERATORS
Not to be left out in the cold, refrigerators have also succumbed to the incorporation of modern technology. In addition, there are old issues which still require resolution. These include when to open the refrigerator door on Shabbos, and what to do about heating elements that turn on to defrost the coils. The STAR-K has developed a set of criteria through which the latest technological advancements are employed to alleviate these problems.
After entering the certified mode (called either Sabbath or Holiday Mode), the consumer need not worry about lights, digits, icons, tones, alarms, solenoids or fans being activated/deactivated when opening or closing the door. A built-in delay prevents the compressor from turning on immediately after the door is opened. The defrost cycle operates solely on clock time, without any feedback from the consumer's use of the refrigerator. (Current technology is introducing control of the defrost cycle by counting the number and length of door openings, which may present a halachic problem.) Finally, the ice and cold water systems will be deactivated since they invariably use electrical solenoids and motors to operate. (After a power failure, units will return to the certified mode.)
This article is merely an overview of the application of modern technology to appliances, and how it affects the Orthodox Jewish consumer. For certified models and guidelines for their proper usage, please check the STAR-K website at www.star-k.org
For more information see here