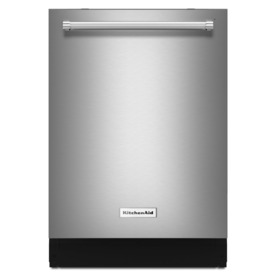 Stainless steel, plastic or porcelain dishwashers which have plastic pumps, parts and rubber hoses cannot be kashered for Pesach or the rest of the year.
Please see the list below of the Star-K Certified KitchenAid Dishwashers here.
KitchenAid Drawer Dishwashers

KUDH03DTBL

KUDH03DTSS

KUDD03DTWH

KUDD03DTBL

KUDD03DTSS

KUDD03DTPA

 

 

The above models may be used in the following manner:
Since the two units/drawers are completely separate entities, one may be designated and used for meat and the other for dairy.
However, if one drawer is used for meat and the other for dairy, the two drawers should not be run at the same time.
This certification does not extend to Sabbath and Holiday use, since running a cycle on the dishwasher during the Sabbath and Holidays is not permitted.