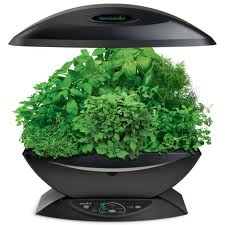 The bug stops here, in the privacy of your own kitchen, thanks to
The AeroGarden.  Kosher consumers, with green and brown thumbs alike, can now farm their own vegetables and herbs year-round on their kitchen counter.  Providing a controlled growing environment, The AeroGarden allows you to control insect infestation of leafy greens and herbs. Placing crop production into the hands of the everyday kosher consumer is a major boon.
The AeroGrow International, Inc. product, created by entrepreneur
Michael Bissonnette, is a revolutionary kitchen garden appliance.  Using NASA-tested aeroponic technology, it grows harvests of organic-based 100% natural garden fresh lettuce, tomatoes and herbs, faster and more reliably than other methods–without soil, weeds, or mess.
The indoor electric garden suspends the plants' roots in moist air and frequently bathes them with nutrient-enriched water, allowing them to mature   faster than those grown in soil.  Its equipment features sun-spectrum lights and an automated nutrient and water delivery system.  After simply dropping the seed containers into the base, and adding water and time-release nutrient tablets, the "smart" garden takes over.  The grow lights and nutrient delivery are automatically adjusted according to the crop.  Since no natural sunlight is needed, the plants can be grown wherever there is electricity.
The AeroGarden crops require minimal tending—minutes a month.  Since the plants grow in an indoor environment, they thrive year-round.  They can be left unattended for up to two weeks, depending on the type of plants and their maturity, a plus for the Sabbath/Yom Tov observant and vacationers, alike.
Presently, the seed kit varieties include: salad greens (a proprietary mix of seven types of lettuce), herbs (cilantro, chives, Italian basil, Red Rubin basil, dill, mint, and parsley), basil (including a mix of international varieties), as well as cherry tomatoes, chili peppers, and petunias.  The company hopes to add strawberries, as well as other herb offerings and flowers in the near future.